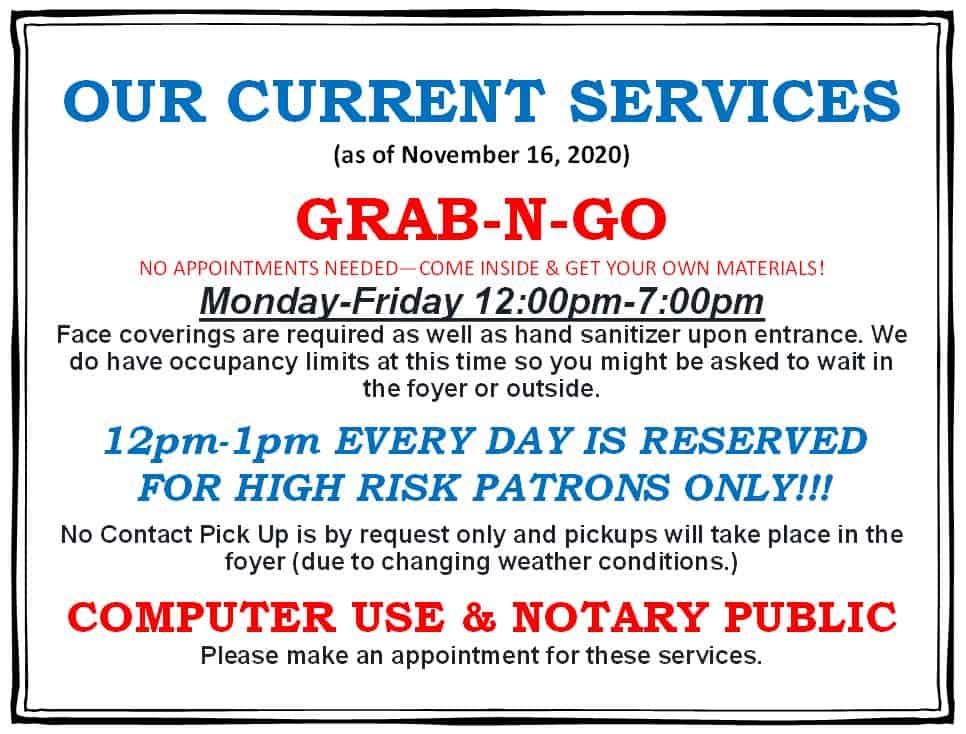 OPEN HOURS–see above for details (as of November 16, 2020)
Monday 12pm-7pm
Tuesday 12pm-7pm
Wednesday 12pm-7pm
Thursday 12pm-7pm
Friday 12pm-7pm
Closed Saturday and Sunday

Notice from the Morrisville Public Library Board of Trustees: The library will be closed for an extended period during the holiday season in anticipation of Covid-19 safety measures related to public health and local transmissions.  The library will be closing the evening of December 16 and will remain closed until the new year.  We encourage you to plan ahead and to allow us to help you make your selections to get you through the holidays.  We will resume operations on January 4, 2021 and we look forward to seeing you then!  (adopted November 19, 2020)
In the event of terrible weather conditions the Library will close. Please watch Spectrum News (channel 10) or CNYCENTRAL (channels 3 or 5) and 9WSYR (channel 9) on TV. You may also call the Library at 315-684-9130.
2020 Library Closures
Thanksgiving and 2 days after (Thursday-Saturday 11/26-11/28/20)
Thursday December 17 through Sunday January 3, 2021 (see above)
2021 LIBRARY CLOSURES
New Year's Day (Friday 1/1/21)
Martin Luther King Jr. Day (Monday 1/18/21)
President's Day (Monday 2/15/21)
Memorial Day (Monday 5/31/21)
Independence Day (Monday 7/5/21) **observed day
Labor Day (Monday 9/6/21)
Columbus Day (Monday 10/11/21)
Veteran's Day (Thursday 11/11/21)
Thanksgiving and 1 day after (Thursday & Friday 11/25 & 11/26/21)
Christmas Eve closing at 4pm (Friday 12/24/21)
Christmas Day (Saturday 12/25/21) and closed through Sunday January 2, 2022

CLOSED SATURDAYS AND SUNDAYS IN 2021