UPCOMING VIRTUAL EVENTS
January Book Discussion-Books Available now (see our program page for details)
Classics with Chelle, Charlie and the Chocolate Factory, every Wednesday from January 6-February 17 at 6:30pm on FB Live
Our NEW Materials are waiting for you! Check here to see what items we have purchased for you to check out! CLICK HERE!
NEW & EASIER NO CONTACT PICK UP! CLICK HERE for details!
The Morrisville Public Library will begin taking book donations. We will ONLY take donations of: children's books, large type materials, DVD's, books on CD or two years current of fiction or nonfiction books. ALL ITEMS will be quarantined for 30 days before we touch the items. We cannot help you bring them into the library for the safety of our staff. NO ITEMS are to be left outside the library's doors or put in our return bins. Please make arrangements with a staff member about dropping them off.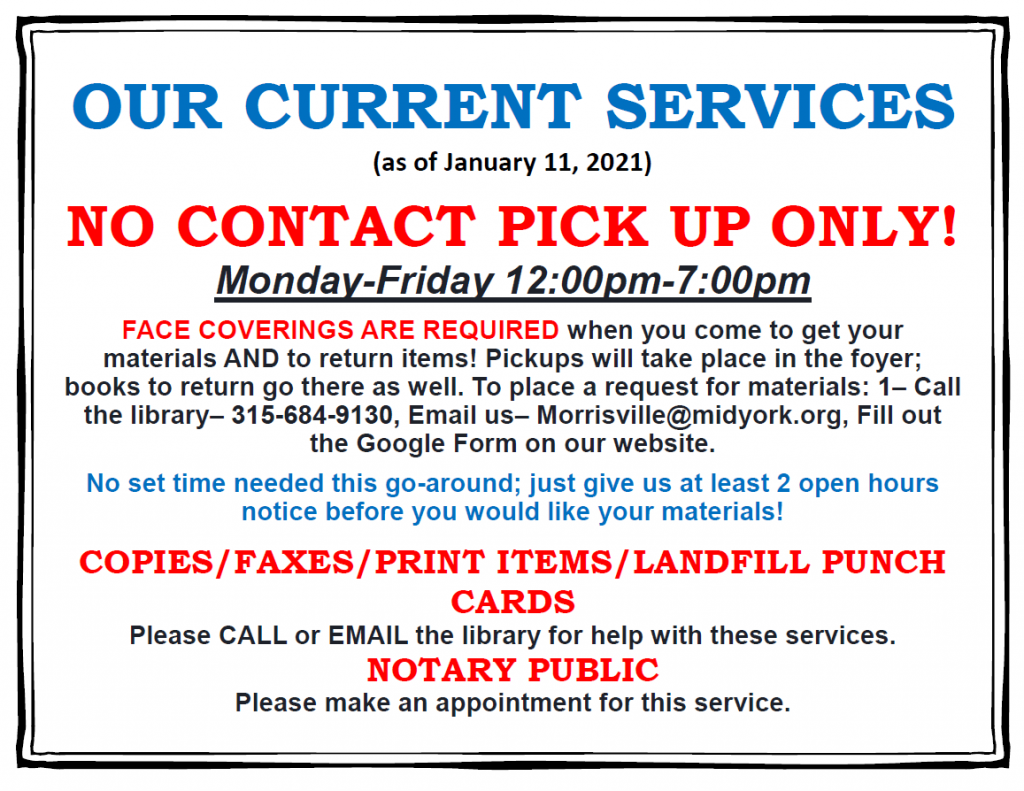 Make a difference this holiday. Shop for gifts at smile.amazon.com/ch/06-1646456 to generate donations for Morrisville Public Library and check out our AmazonSmile Charity Lists to donate items we need most.

FREE Service: Our Library Manager is a Notary Public! Inquire today!
Check out our New Materials webpage and see what's coming to your library soon!
"Without libraries what have we? We have no past and no future."― Ray Bradbury
This institution is an equal opportunity provider, and employer. To file a complaint of discrimination, write: USDA, Director, Office of Civil Rights, 1400 Independence Avenue, S.W., Washington, D. C. 20250-9410, or call (800) 795-3272 (voice) or (202) 720-6382 (TDD).