UPCOMING VIRTUAL EVENTS
October Book Discussion-Books Available NOW (see our program page for details)
Classics with Chelle, The Boxcar Children, starts Wednesday Sept. 23 at 6:30pm on FB Live
In addition to our no contact pick up hours on M/W/F 4pm-7pm and T/TH 12pm-6pm the Morrisville Public Library is now offering 15 minute browsing appts and 30 minute computer use appts during these times. Patrons need to call (315-684-9130) or send us an email (morrisville@midyork.org) with your name and phone number (or email address) and a staff member will get back to you to schedule your time. Face coverings MUST be worn at all times while in the building and there are no time extensions allowed. Also, only 2 people per household for a browsing appt and only one person for the computer. (NO gaming or social media allowed, practical work only.)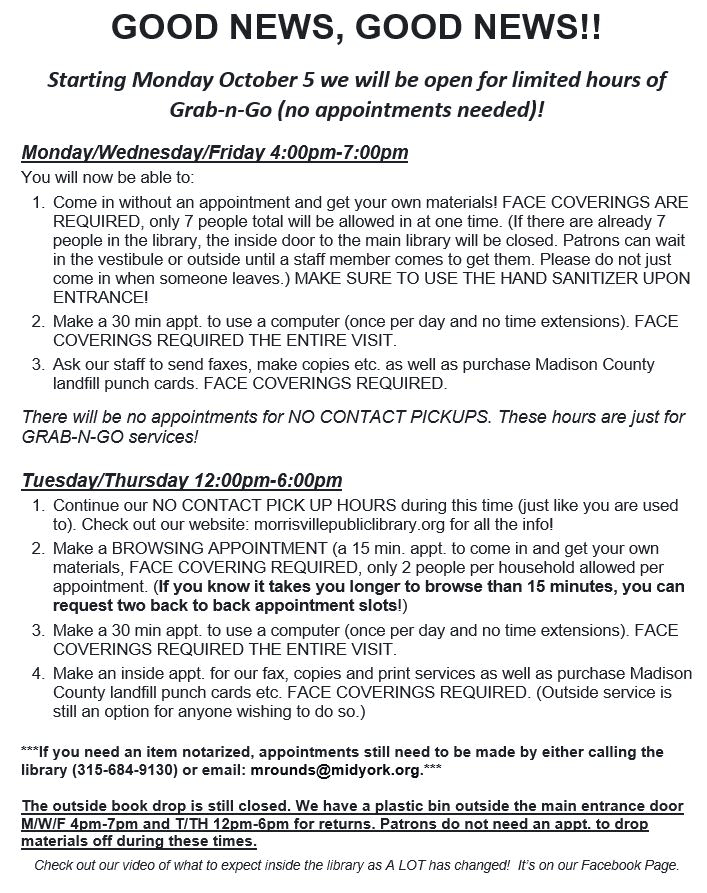 FREE Service: Our Library Manager is a Notary Public! Inquire today!
Check out our New Materials webpage and see what's coming to your library soon!
"Without libraries what have we? We have no past and no future."― Ray Bradbury
This institution is an equal opportunity provider, and employer. To file a complaint of discrimination, write: USDA, Director, Office of Civil Rights, 1400 Independence Avenue, S.W., Washington, D. C. 20250-9410, or call (800) 795-3272 (voice) or (202) 720-6382 (TDD).