UPCOMING VIRTUAL EVENTS
June Book Discussion–Nickel Boys by Colson Whitehead (Books Available Now)
Take-n-Make Crafts –CLICK HERE to see what we have for June!
SUMMER READING SIGN UPS start Monday June 28! Kids (1-17) and adults too!
Summer Reading 2021! CLICK HERE to see the details! Check back as we add more things!
New mask mandates are in effect May 18, 2021 in New York State, but please note that the Morrisville Public Library is still requiring masks as we serve all ages, young and old. (The NYS Department of Health strongly recommends masks in indoor settings where vaccination status of individuals is unknown.) We will continue like usual, so please wear your face covering when you come to the library. Thank you.
The Morrisville Public Library will begin taking book donations. We will ONLY take donations of: children's books, large type materials, DVD's, books on CD or two years current of fiction or nonfiction books. ALL ITEMS will be quarantined for 30 days before we touch the items. We cannot help you bring them into the library for the safety of our staff. NO ITEMS are to be left outside the library's doors or put in our return bins. Please make arrangements with a staff member about dropping them off.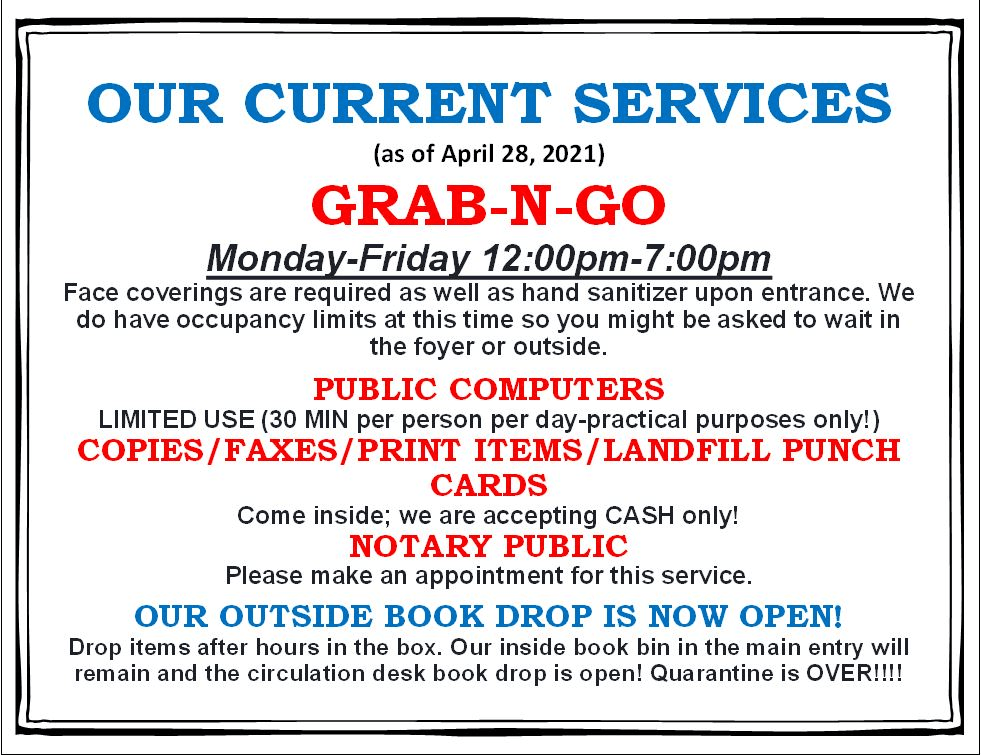 Did you know that you can generate donations while shopping for yourself, at no extra cost?
Simply start your shopping at smile.amazon.com/ch/06-1646456 to confirm "Morrisville Public Library" as your charity of choice, and AmazonSmile will donate a portion of your eligible purchase price to our organization.

FREE Service: Our Library Manager is a Notary Public! Inquire today!
Check out our New Materials webpage and see what's coming to your library soon!
"Without libraries what have we? We have no past and no future."― Ray Bradbury
This institution is an equal opportunity provider, and employer. To file a complaint of discrimination, write: USDA, Director, Office of Civil Rights, 1400 Independence Avenue, S.W., Washington, D. C. 20250-9410, or call (800) 795-3272 (voice) or (202) 720-6382 (TDD).