UPCOMING VIRTUAL EVENTS
Kiddies Korner Virtual Story Time, Thursday June 4
NO CONTACT PICK UP Begins Tuesday June 2! Click Here for details!
The Morrisville Public Library's physical building will remain CLOSED until FURTHER NOTICE. On Tuesday June 2, the Morrisville Public Library will begin offering NO CONTACT PICKUP of materials. CLICK HERE for more information! If you have any questions please email the Library Manager, Michelle Rounds, at mrounds@midyork.org or call the library at 315-684-9130.

SUMMER READING IS COMING! Not in-house this year but we have a summer filled with virtual activities and things you can do at home! (See below!)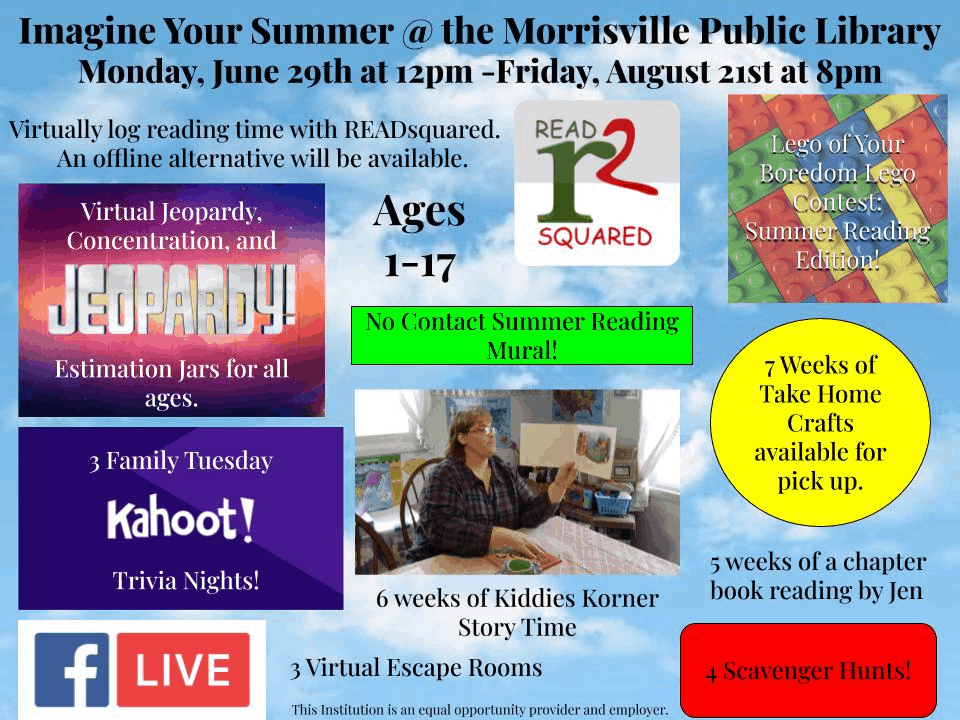 The Morrisville Public Library is asking for a small increase to our operating budget for 2021. Click here to learn more! Don't forget to vote by Tuesday June 9, 2020 with the ballot being mailed to you. Ballots must be returned to the school by mail by 5pm on June 9, 2020.
FREE Service: Our Library Manager is a Notary Public! Inquire today!
Check out our New Materials webpage and see what's coming to your library soon!
"Without libraries what have we? We have no past and no future."― Ray Bradbury
This institution is an equal opportunity provider, and employer. To file a complaint of discrimination, write: USDA, Director, Office of Civil Rights, 1400 Independence Avenue, S.W., Washington, D. C. 20250-9410, or call (800) 795-3272 (voice) or (202) 720-6382 (TDD).