Tails & Tales, Summer Reading Program runs from June 28, 2021-August 20, 2021. All participants (ages 1-17) must read a total of 12 hours over these weeks to be able to "graduate" and be entered to win several prizes at the end of the program. ADULTS can also read again this summer with a chance to win a Tails & Tales gift basket at the end of the program!
This will be a HYBRID program because of the COVID-19 pandemic. We will be having weekly activities that you can take home and do, activities that you can do in the library (quickly), some outside performers (registration required), virtual live programs you can attend from the comfort of your own home and a virtual summer reading graduation ceremony!
Our weekly prizes are back (if kids show they have read each week), weekly book drawing for kids (every day you check out a book(s), you get entered to win a book the next week), and our incentive game for kids and bingo for adults! We will have estimation jars for all ages (adults too), a matching game for all and a new game (no Jeopardy this year) for all too! There will be "quests" and a scavenger hunt as well to do when you have a chance to come in!
SIGNING UP!
We will NOT be doing an online tracking system this year. It just doesn't work for our community. We will be doing it our usual way! Stop in starting the week of June 28 and sign up and get all the information etc. you need! PLEASE NOTE: The first week of Summer Reading- June 28- July 2 there will be NO programs, activities, games, quests or prizes given out. This week is JUST for registering for the program so you can begin reading! The week of July 6 (as we are closed Monday) is when all the fun begins!
T-shirts
We will NOT be giving out t-shirts to all the graduates this year. Instead, if you would like to purchase this one for your child (or yourself), please let us know by emailing us (morrisville@midyork.org) or calling us and letting us know. You can pick the size and each t-shirt (sizes Youth S- Adult XL) will cost $15. (If you need a larger size, please let us know as they will cost an extra $3 each.) We will be placing an order May 17, 2021 so all orders and payments must be in by then! No exceptions! (See our specially designed tee below!)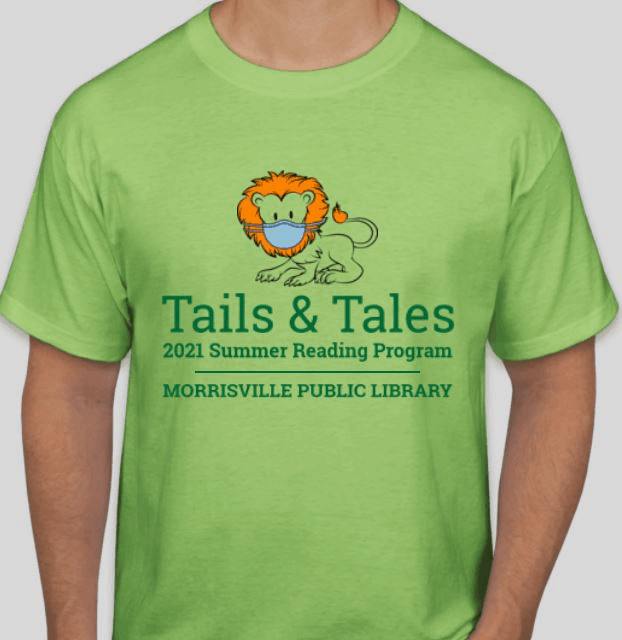 July 2021 EVENTS
August 2021 EVENTS
We are collecting donations for Wanderer's Rest Humane Association in Canastota, NY all during our summer reading program! Drop off any items from June 28-August 20, 2021 to the library (during open hours). Need an idea of what to donate? Look below!